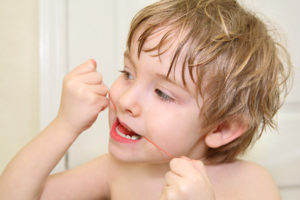 Most people take their daily tooth brushing and flossing routines for granted. If you've been brushing and flossing the same way since you were a toddler, it may be time to take a few minutes to brush up on some of the basics of maintaining your optimal oral health. Visiting a family dentistry team twice a year for dental exams and cleanings is essential, but the other 363 days of the year, oral hygiene is up to you. In this post, we'll walk through some tips to help you make the most of your at-home hygiene routine.

Brushing Basics
Brushing teeth is as simple as remembering to brush for at least two minutes at a time at least two times each day. If you do that, you're going to be on the road to great oral health. Some additional factors to consider when improving your tooth brushing routine include:
Use soft or ultra soft bristled toothbrushes to avoid excessive wear to tooth enamel.
Add brushing between meals to remove food particles before they have a chance to remain in place for long potentially leading to enamel wear or damage.
Brush systematically, not randomly, to ensure you're removing plaque form every surface of each tooth.
Flossing Fundamentals
Flossing teeth is one of the things about oral health care that the majority of patients dislike. However, it's essential in order to remove foods and plaque buildup between teeth. You can use any type of floss, depending on your own personal preferences. Whether you're using traditional floss, handheld flossing picks, or air and water flossers, the key is to make sure you remove plaque and food from both sides of each tooth all the way to the gum line.
Other Oral Hygiene Tips
Some other considerations to keep in mind include:
If you don't have time to brush your teeth between meals, consider using an antimicrobial mouth rinse to remove food and plaque and save you a few minutes.
Remember to drink plenty of water to stay hydrated, keep your mouth free from food particles, and stimulate saliva production.
Never use tobacco products of any kind as this can stain teeth and increase the speed of plaque hardening into tartar.
Wear sportsguard during athletic competitions and practices to protect teeth. You should also use mouthguards to protect your smile from nighttime teeth grinding and clenching.
Don't use teeth as tools to open packages or crack nuts, and don't unnecessarily chew on hard objects like ice or fingernails as this can damage tooth enamel.
Meet Dr. Olson
Springfield dentist, Dr. Scott Olson, offers patients of all ages gentle and effective preventive, restorative, and cosmetic dentistry services all under one roof. Don't forget that in addition to providing exceptional treatment options, Dr. Olson and his team members are also great resources to help you make the most of your at-home hygiene routine. Don't ever hesitate to talk to us about which oral hygiene products you should consider, how to improve your at-home care techniques, and more. If you want to learn more about how to maximize your oral hygiene in our office and at-home, call to schedule an appointment at Olson Family Dental. We look forward to seeing your smile.