Dental Bridge – Springfield, MO
Bridge the Gap for an Attractive and Functional Smile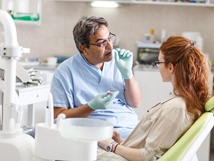 Have you ever thought about how much work your teeth do for you every single day? They bite, chew, grind, gnash, clench, chatter and smile. With that kind of activity, it's no wonder that so many people suffer tooth loss. How many people? The American College of Prosthodontists estimate that some 178 million people in the United States have at least one missing tooth. If you are one of those millions, then perhaps you should consider having a dental bridge in Springfield. Dr. Olson can design an attractive bridge that will also be comfortable and functional.
Why Is It Important to Replace Missing Teeth?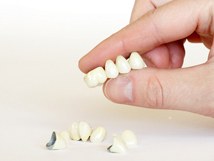 If you've been dealing with missing teeth for a while, then you know the consequences. The most obvious, of course, is your appearance when you smile, eat or laugh; just knowing that other people are seeing your missing teeth can make some people so uncomfortable they begin to avoid social engagements and business meetings.
In addition, missing teeth can be the beginning of other problems, too, such as periodontal disease, tooth decay and shifting teeth. Furthermore, tooth loss is one of the leading causes of malnutrition. If you aren't able to chew certain foods—fresh fruits and vegetables, meats, nuts, grains—then your diet suffers. All in all, the need to replace missing teeth is important to your self-confidence, your oral health and your general health.
What Is a Dental Bridge?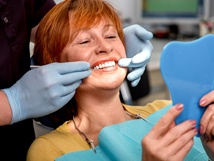 A bridge is designed to fill the space left behind if you are missing one or a few teeth. You and Dr. Olson will decide what kind of bridge will be best for you. There are fixed bridges that are permanently attached to adjacent abutment teeth and removable bridges, which are also called partials.
A removable bridge is made of false teeth that are cemented to a metal frame. The frame has clasps or brackets that attach to healthy teeth in order to hold the bridge in place. False teeth are designed according to the details of an impression made of your mouth. In this way, the teeth look natural and fit comfortably between your other teeth and when you bite.
A fixed or permanent bridge is one unit made up of two dental crowns with false teeth in between. The crowns are placed over healthy teeth on either side of the gap in your smile in order to hold the false teeth in place. The crowns can also be attached to dental implants when necessary.
How Is A Bridge Placed?
Your dentist will take precise measurements of your mouth as well as impressions in order to design a bridge that fits comfortably between your other teeth. Together you will choose a color for the false teeth that blends seamlessly with your natural teeth. Once in place, your new bridge will complete your smile and restore normal function, so you can chew and speak with ease.