Dental Implants — Springfield, MO
Replace Missing Teeth with the Next Best Thing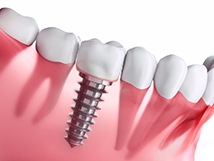 You have several options when it comes to replacing missing teeth, and the decision is significant. At Olson Family Dental, we agree with the majority of dentists and patients by recommending dental implants as the best choice. This unique prosthetic looks and performs just like one of your own teeth. Therefore, you won't need to eliminate any foods from your diet and your oral healthcare routine will stay the same. You will, however, gain confidence and greater quality of life. Regardless of how many teeth you're missing, we can use dental implants in Springfield to rebuild your smile from the roots up. If you're ready to replace missing teeth with the next best thing, give us a call today.
Why Choose Olson Family Dental For Dental Implants?
Flexible Financing Options Available Through CareCredit
Dental Implant Placement & Restoration Performed In-Office By Dr. Olson
State-of-the-Art Dental Technology for Precise, Long-Lasting Results
What Are Dental Implants?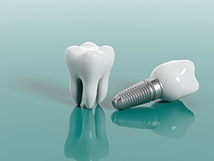 A dental implant is a prosthetic that replaces your entire tooth structure from root to crown. The actual implant is a small post made of titanium, a biocompatible metal. This post is surgically set in your jawbone under the socket of a missing tooth. Over the course of the next few months, the post and surrounding bone tissue fuse together. This process is called osseointegration. When you've completely healed from surgery and the implant and bone are fully integrated, a porcelain crown, bridge, or denture is secured to the implanted post and your smile is whole once again.
The 4 Step Dental Implant Process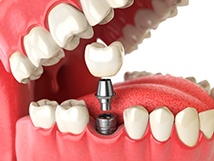 Since dental implants replace the entire structure of a missing tooth from root to crown, getting them requires a much different process than getting dentures or a dental bridge. This multi-step treatment typically takes several months to a year to complete. While this may seem like a long time, the end result is a reliable smile that has the potential to last a lifetime! Generally, you can expect four mains stages of treatment: the initial consultation, the dental implant surgery, osteointegration, and the placement of the final restorations.
Initial Dental Implant Consultation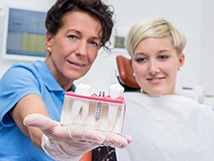 The dental implant process begins with a consultation between you and Dr. Olson. During this visit, you and your implant dentist in Springfield with talk about tooth replacement options and what you can expect if you decide to get dental implants. You'll learn about the implant surgery and recovery, and our front office team will be able to give you an estimate of the cost. Next is an examination, so Dr. Olson can develop a personalized treatment plan for you. He will examine your gums and the teeth surrounding the gap in your smile as well as your facial features and structure.
Dental Implant Surgery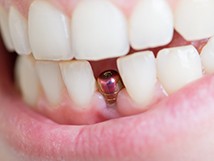 The implant procedure itself is rather straightforward. First, a local anesthetic is administered to numb the site. Then, Dr. Olson will make one or more small incisions in your gums depending on how many dental implants you'll be receiving. Once your jawbone has been accessed, the dental implant(s) will be carefully inserted and positioned in the bone tissue. Finally, the gums are closed up and a protective cap is placed on top of the implant before you're sent home to heal.
Dental Implant Osseointegration & Abutment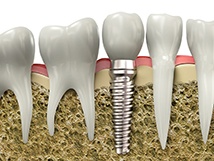 It will only take a few weeks for your gums to heal after dental implant surgery, but your jawbone will take much longer. Over the next several months, the bone tissue and your dental implant(s) will undergo a process called osseointegration. Essentially, the implant effectively becomes one with your jawbone in much the same way as a natural tooth root. This firm integration is what ensures a solid foundation for your new tooth.
Once the implant and bone have fused, Dr. Olson will attach an abutment. This small piece helps to keep the implant in place and serves to connect the final tooth restoration to the implanted post.
Delivery of Dental Implant Restorations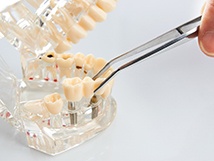 The final step in the dental process is the placement of the restoration. The kind you need will depend on the extent of your tooth loss. For a single missing tooth, you'll have a porcelain crown. If you have several missing teeth, then a bridge can be attached to two to four implants. And for an entire arch of missing teeth, Dr. Olson will design a full denture that connects to several implants.
Benefits of Dental Implants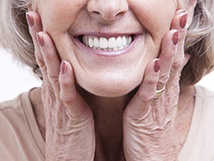 Thanks to their unique placement, dental implants provide a variety of unique benefits! In fact, this modern tooth replacement solution has the potential to improve your quality of life in ways that dentures and dental bridges simply can't. We'll be more than happy to go over all the ways replacing your missing teeth can change your life during your initial consultation, but in the meantime, here are some of the best reasons why our patients love dental implants
Long-Term Tooth Loss Solution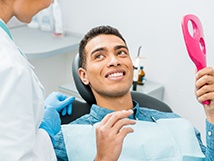 Dental implants may be more expensive than other tooth replacements initially. However, with proper oral hygiene and maintenance, they can last a lifetime, thereby costing less over the long run. Dentures typically require refittings and eventually need to be replaced. Not so with dental implants.
Maintain a Youthful & Healthy Appearance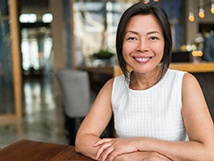 Want to look younger longer? Then you need to have a strong and well-formed jawbone. A dental implant replaces both the crown and root of a missing tooth. The new root stimulates healthy new bone tissue growth every time you chew and bite down, helping to prevent bone deterioration, which can lead to a sagging facial appearance that makes you look older.
Maintain Great Oral Health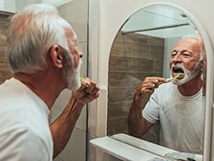 Dental implants have no impact on adjacent teeth. A partial denture, for example, is equipped with clasps that latch on to nearby teeth. Additionally, dental bridges require the removal of some healthy tooth enamel from the neighboring teeth. Neither of these are issues with self-supporting dental implants.
Easy Maintenance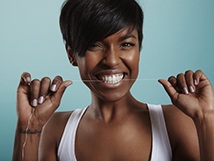 Whatever you do now to take care of your teeth is what you will continue to do once you have dental implants. Be sure to brush your teeth twice a day with fluoride toothpaste and floss at least once a day. And you can take comfort in knowing that your new teeth will never succumb to decay!
Understanding the Cost of Dental Implants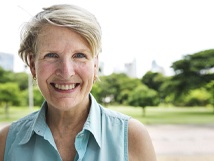 While the cost of dental implants in Springfield tends to be higher than other options, this tooth replacement comes with a variety of amazing benefits. Unlike traditional dentures or bridges, dental implants can last for a lifetime while helping you feel healthier, happier, and more confident. This treatment is highly customized, which is why there is a wide range of pricing. Read on to learn more about the factors that impact the cost of your dental implants!
Preliminary Treatments & Dental Implant Surgery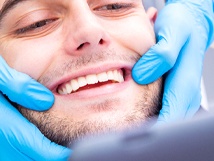 Before getting dental implants, we will first need to address any oral health issues. Bone grafting, tooth extractions, and gum disease therapy are often necessary treatments to ensure the success of your dental implants. Next, our highly trained implant dentist in Springfield, Dr. Olson, will perform your implant surgery. Getting your implants placed and restored at the same office makes your fees simpler and more compact.
The Parts of Your Dental Implant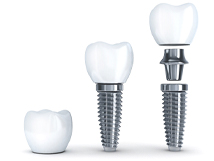 There are several factors that impact the cost of your implants, including:
Number of implants: The number of implants you need will directly impact your treatment price. Usually, the more implants necessary, the higher you'll pay.
Type of restoration: The size of your restoration also impacts cost. A dental crown for a single implant will cost more than a denture that replaces a whole row of teeth.
Material: Dental implants can be made out of different materials like titanium and zirconia. Dr. Olson always uses high quality implants for the best results.
Brand: Like cars or clothes, different brands of implants will vary in cost. Feel free to contact us to discuss the type of implants that we use!
How Dental Implants Can Save You Money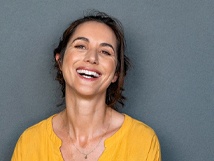 The initial cost of dental implants in Springfield may seem high, however this investment can actually pay for itself. Unlike dentures that must be replaced every 5 to7 years, dental implants themselves can last for 3 decades or even the rest of your life with proper care. Plus, they stimulate your jawbone to prevent it from deteriorating, which keeps your facial appearance youthful. And they allow you to eat a more nutritious diet, leading to better overall health. Above all else, implants allow you to enjoy your day-to-day life with a full, healthy set of teeth, making them well worth their cost.
Does My Dental Insurance Cover Dental Implants?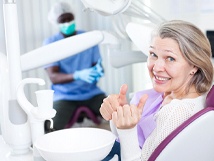 Usually, dental insurance does not cover implants. However, your provider may offer coverage for portions of the treatment process like preliminary services and/or part of the cost of your restoration. We are happy to speak directly with your insurance to find out what type of benefits you can take advantage of. Our friendly front desk team at Olson Family Dental is ready to help you maximize your benefits and lower your out-of-pocket costs.
Making Dental Implants Affordable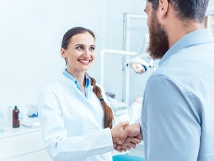 We are committed to making dental implants as cost effective as possible. That's why we have flexible payment options, including CareCredit financing. With this easy solution, you can choose the monthly payment plan that fits your budget. The best part is that CareCredit offers low to no interest, which makes getting dental implants manageable for a wider range of Springfield patients.
Dental Implant Technology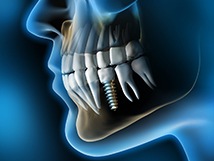 Overall, the success rate for dental implants is around 98%. This is largely thanks to their precise placement in the jawbone with the help of modern dental implant technology like the CT Cone Beam Scanner. The images from our 3D Cone Beam system allow us to visualize the bone volume of your jaw in order to most accurately position the implant. In addition, software allows us to manipulate the 3D image so we can view your jaw from several angles. Thus, the implant can be positioned to take the most advantage of bone volume.
Dental Implant FAQs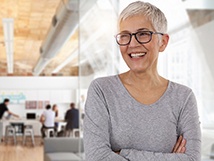 If you're still curious about dental implants, you're in the right place! Please don't hesitate to contact our office to speak with one of our friendly team members if you have any specific concerns. Until then, we've included the answers to some of the most frequently asked questions about dental implants in Springfield below. Read on to get the information you need to feel confident in this amazing treatment option.
How Long Do Dental Implants Last?
Dental implants are designed to last for over 30 years. They can even last for the rest of your life, however this will depend on your health and daily habits. To ensure you get the most out of your dental implants, it's important to brush twice a day and floss once a day. Additionally, visit your implant dentist in Springfield for routine checkups and cleanings. Do your best to avoid extra hard or sticky foods to lower your risk of damaging your tooth replacements. While they tend to cost more, implants usually last several times longer than traditional bridges or dentures, making them a cost-effective choice.
Can I Take Dental Implants Out?
No, dental implants are surgically placed in the jawbone, which is why they can only be removed by a trained dentist. They are made of biocompatible materials that allow implants to fuse to the jaw, becoming a permanent part of the body. This is one of the reasons why dental implants can last so long. However, there are some types of implants that are designed to be removed for cleaning. These are usually implant dentures, which combine the benefits of dental implants and dentures to replace an entire row of teeth.
Does Getting Dental Implants Hurt?
You may hear dental implants require surgery and automatically feel a little nervous. However, the procedure is much more painless than you may have guessed. We always ensure that our patients are numb with local anesthetic before beginning. Additionally, we offer various types of sedation to give you a deeper sense of calm and relaxation. Plus, the jawbone doesn't contain very many pain-sensing nerves, making the surgery more comfortable. That said, there is some slight soreness that you should expect after the treatment. This can be easily managed with medication, but you should call us if your discomfort seems to get worse after 3 days.
Are Dental Implants Safe?
Most patients with good health will enjoy successful dental implant treatment when they're placed by a dental professional. If you have low jawbone density or gum disease, we will need to address these issues before placing dental implants to ensure their success. Diabetes, cancer, or other medical conditions may complicate the surgery and/or healing process, which is why we'll discuss your health before recommending implants. Additionally, smoking or using tobacco products can cause failure because they slow down healing.