Dental Implants in Springfield
What are Dental Implants?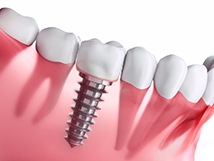 Simply explained a dental implant is a prosthetic that replaces your entire tooth structure from root to crown. The actual implant is a small post made of titanium, a biocompatible metal. This post is surgically set in your jawbone under the socket of a missing tooth. Over the course of the next few months, the post and surrounding bone tissue fuse together. This process is called osseointegration. When you've completely healed from surgery and the implant and bone are fully integrated, a porcelain crown, partial or denture is secured to the implanted post and your smile is whole once again.
Indications for a Dental Implant
Most people qualify to have a dental implant when they need to replace a missing tooth. That's why there are millions of people across the country enjoying the aesthetic and oral health benefits of an implant. In fact, this prosthetic is so natural looking, you probably know someone with a dental implant and may not even realize it.
Missing a Single Tooth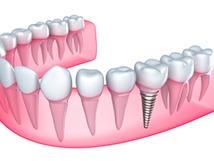 A single implant is used to support an implant-retained crown. The implant is embedded in your jaw to take advantage of the greatest bone density at the site. When the implant and surrounding bone tissue have bonded, the crown is attached and you have a new tooth that is indistinguishable from your natural teeth.
Learn More about Single Tooth Implants
What Are the Benefits of Dental Implants?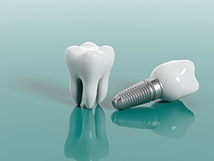 Dental implants actually consist of two parts: the portion above the gum line that is crafted to look just like the crown of your tooth and the portion below the gum line that is set in your jaw to anchor your new restoration firmly in place.
Another advantage is the way a dental implant helps maintain the shape of your jaw. Without a tooth root, bone tissue in the immediate vicinity begins to degenerate and your facial structure eventually looks more aged. A dental implant, however, stimulates your jaw every time you bite, thus encouraging healthy new bone tissue growth.
Learn More About The Benefits of Dental Implants
How Much Do Dental Implants Cost?
Up front, dental implants will cost more than other tooth replacement options. However, you may actually end up spending less over a lifetime for dental implants because they can last a lifetime. A partial, full denture or a crown and bridge will likely need replacement at some point.
Also, whether or not you need any prep work before dental implants are placed will affect the bottom line, as well as the number of implants required. Check to see if your dental insurance benefits cover a portion of the cost of dental implants. Some will pay for the tooth restoration.
Learn More about the Cost of Dental Implants
What is the Process of Dental Implants?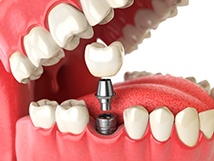 First, your dentist will conduct a thorough examination of your teeth and gums to ensure your overall oral health. Then, there are two phases to the dental implant process—implantation and restoration. First the implants are surgically positioned along your jawbone. A requisite number of months are given for healing. Finally, abutments are attached to the implants and your replacement teeth are permanently secured in place.
Learn More on Process of Dental Implants
What is the Success Rate with Cone Beam Technology?
Overall, the success rate for dental implants is around 98 percent. The images from our 3D cone beam system allow us to visualize the bone volume of your jaw in order to most accurately position the implant. In addition, software allows us to manipulate the 3D image so we can view your jaw from several angles. Thus, the implant can be positioned to take the most advantage of bone volume.
How Do Dental Implants Work?
Basically, a dental implant works just like one of your natural teeth that has a root and a crown. The implant—which is a small screw-like post that is surgically embedded in your jawbone beneath the socket of a missing tooth—is the new root. The implant and surrounding bone tissue fuse together to form a solid foundation. Once this happens, an abutment is attached to the implant to hold the new crown in place.