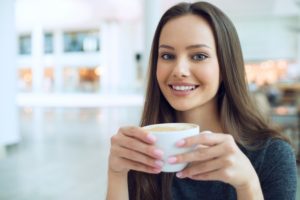 C-O-F-F-E-E! For some, their coffee is ready even before they get out of bed in the morning. For others, coffee represents a way to socialize with friends, meet a client or just relax after a long day. Whatever coffee means to you, there are ways to order this ubiquitous drink that will have less impact on your teeth. Read on for tips from a family dentist in Springfield.
Shrink Your Coffee Cup
Do you really need to order a cup of coffee that's large enough for four people? Try choosing a smaller size, especially if you add sugar or sweetened whipped cream to your cup o' java. Little by little, the amount of sugar added to your daily cups of coffee can really add up to a significant amount.
Black Coffee, Please
Whipped cream, sprinkles or syrups and other toppings add unnecessary sugar to a cup of coffee. For instance, a drizzle of caramel adds four grams of sugar to your beverage. It's best to drink black coffee, but if you've just got to have yours sweetened, then at least ask for less.
Less Syrup
Those specialty coffee drinks are loaded with flavored syrup, which means that they're also loaded with sugar. One pump of your favorite flavored syrup is equal to about five grams of sugar. So three pumps in a small drink adds up to 15 grams of sugar; a medium has about 20 grams; and a large has a whopping 25 grams, which is 100 percent of the recommended daily allowance of sugar for women!
Do your teeth, your heart and your waistline a favor—ask for less syrup or eliminate this sweetener completely the next time your order coffee.
Coffee and the Color of Your Smile
The sugar in a cup of coffee can gradually lead to tooth decay, but let's not overlook what coffee can do to the whiteness of your smile. The tannins in coffee can seep into the enamel of your teeth and leave stains. Eventually, these stains will discolor your smile.
You don't necessarily have to stop drinking coffee to avoid staining. Try rinsing your mouth with water after you've finished a cup of coffee. Alternatively, if you don't mind drinking coffee at room temperature, you could use a straw so most of the liquid stays away from your teeth.
Would you like to know more about how you can keep your teeth healthy and still enjoy coffee regularly? If so, Contact your family dentist in Springfield.
Meet the Doctor
Dr. Olson is a family dentist in Springfield. He and his team offer comprehensive dentistry to patients of all ages. Call our office today to get more easytips you can use every day to take care of your smile.