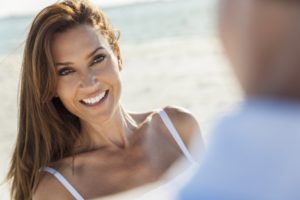 For every action there is an equal and opposite reaction. Newton's third law may not only apply to physics. Some people find that having their teeth whitened results is side effects. Many can be avoided if you elect to have your teeth whitened with a cosmetic dentist in Springfield. Read on to learn more about teeth whitening, the side effects and the services your dentist offers.
Possible Side Effects of Teeth Whitening
First of all, most people who decide to whiten their teeth do not experience side effects and are quite pleased with the results. However, it's always best to know what could happen so there are no surprises.
Tooth sensitivity. During the whitening process and for some time after, you may experience tooth sensitivity. This is because the dentin layer below your tooth enamel is also exposed to the chemicals that whiten your teeth. If you know your teeth are sensitive, then be sure to consult with your dentist before undergoing teeth whitening in Springfield.
Soft tissue irritation. If any of the whitening solution gets on your gums, then soft tissue irritation (also called a chemical burn) can happen. When gum tissue is exposed to the hydrogen peroxide or carbamide peroxide in the bleaching gel, they usually appear white immediately. Although this can be alarming, this side effect usually disappears pretty quickly. Prolonged tissue exposed to whitening solution can lead to redness, swelling and even pain and bleeding in extreme cases.
Unsatisfactory results. The results of teeth whitening partially depend on the initial shade of your teeth, so you may not see the results you were expecting. Also, if teeth are heavily stained or have internal discoloration, then you may notice the shade of your teeth has changed as a result of whitening. Whitening too often may cause your teeth to look gray, and remember that bleaching solution will not work on dental crowns, porcelain veneers and fillings.
Teeth Whitening in Springfield
A cosmetic dentist offers teeth whitening systems that are effective, safe and deliver reliable results. You can choose to whiten in the office if you need a quick change because there's a special occasion ahead on the calendar. Alternatively, if your schedule is just too busy to spend an hour waiting for your teeth to whiten, there is also a take-home kit that includes customized mouth trays and professional grade bleaching gel.
Meet the Doctor
Dr. Scott Olson has been making people smile since 1998. In addition to teeth whitening in Springfield, he offers a number of other cosmetic dentistry procedures including porcelain veneers, composite bonding and ClearCorrect Braces. Call Dr. Olson's office today!