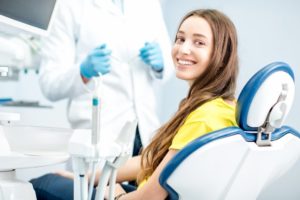 Picture your normal dental visit—you walk in, say hello to the front desk staff, and you're sat in a dental chair. What's always one of the first things your hygienist or dentist asks you? Usually something like, "How are you feeling? Are there any changes in your health?" However, during the COVID-19 pandemic, these questions take on a whole new meaning. In fact, your dentist in Springfield has developed a quick yet effective health screening to ensure the safety of patients and team members. Keep reading to learn more about the ways your dentist is keeping their practice free of the virus.
A Pre-Appointment Screening
When it comes to your screening before an appointment, your dentist may ask questions that aren't about your health, but they're just as important. These include:
Asking about travel
Asking about the people you've been around. Have any of them had COVID-19?
Asking about the number of people in your household
Asking about how you feel overall
In addition to these questions, your screening will also include a no-touch temperature check and examination for other symptoms. Your dentist may also ask you to limit the number of people you bring with you to your appointment. Try to limit it to just one family member, or better yet, come alone.
Social Distancing Precautions
Besides a thorough pre-appointment screening, your dentist has taken advanced safety measures in order to minimize the risk of COVID-19. Primarily, social distancing in the office has been created using virtual waiting rooms with online check-ins. There will also be a staff member monitoring the shared areas like hallways and bathrooms to ensure there is no unnecessary contact between patients. This key person will also check the levels of hand sanitizing stations and disinfectant wipes. Additionally, your dentist is spacing out their appointments to decrease foot traffic in their office. Plus, all staff members are given no-touch temperature checks at the start of each day.
Cleaning & Sterilization
Dentists have always adhered to strict sanitation guidelines from the CDC, but now more than ever they are committed to ultimate sterilization. This means thorough cleaning of patient areas as well as using CDC-approved disinfectant on all surfaces in the dental office. Plus, items like magazines, pamphlets, and more have been removed from public areas to prevent any unnecessary touching. The entire office staff also has designated work clothes, changing at the office instead of at home to maintain a routine and prevent germs from spreading.
Now that you know the advanced safety precautions your dentist is taking, you can feel confident if you need to get high-quality dental care during this uncertain time!
Meet the Dentist
Dr. Scott Olson understands the stress and anxiety COVID-19 can cause, especially if you have to leave your house to go to a medical setting. However, he has taken many additional safety steps in order to prevent the virus from effecting any patients or staff members. If you have questions, he can be contacted through his website or by phone at (417) 823-4900.