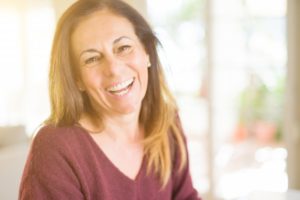 If you're switching from dentures to implants, it's no secret that you haven't been happy with your smile. The slipping, sliding, and appearance can be uncomfortable and embarrassing, not to mention all the maintenance. Thankfully, you'll receive a complete upgrade with dental implants. This lifelong replacement looks, feels, and functions like your natural smile. However, there is a bit of an adjustment period. Read on to learn some easy tips to make your transition as seamless as possible!
First, Here's What to Expect!
At the beginning of your journey from dentures to implants, you'll have an initial consultation. Your dentist will carefully review your oral health and medical history. Depending on your needs, they may also recommend preliminary treatments like gum disease therapy, bone grafting, or tooth extractions. Bone grafting is an especially important treatment if you've had dentures for years. It adds volume to the jawbone, allowing for the placement of dental implants. Next, you'll start the implant process, which will include surgery, recovery, and restorations.
How to Enjoy a Smooth Transition
Every year, over 500,000 people choose dental implants because they replace any pattern of tooth loss while allowing you to enjoy a variety of benefits. That said, their process does require surgery and healing. Plus, you'll have a whole new smile in your mouth. Here are some tips you should remember to ensure a smooth transition:
#1. Remember Your At-Home Oral healthcare
The best step you can take for your new smile is to maintain a good oral healthcare routine before, during, and after getting your dental implants. Keeping your mouth clean and avoiding tough foods will help you avoid gum disease and damage that can lead to implant failure.
#2. Visit Your Dentist
Just because your dental implants can last for decades doesn't mean you should skip your dental visits! Make sure that you're attending your follow-up and routine dental appointments. Your dentist will be able to catch any issues early on, preventing more serious problems from occurring in the future.
#3. Don't Hesitate to Ask
It's best to stay in contact with your dentist even when you're not due for an appointment. If you have any general questions, please don't hesitate to contact your dental office to speak with a friendly team member. However, you should call your dentist immediately if you notice abnormal symptoms like excessive bleeding or pain that gets worse over time.
Ready to get the most natural looking, feeling, and functioning tooth replacement? With these tips, your transition to dental implants will be a total breeze!
Meet the Dentist
Dr. Scott Olson is an experienced Springfield dentist who is always advancing his knowledge through continuing education. He's trained at the Kois Center, the Dawson Academy, and the Engle Institute, which allows him to offer advanced treatments like dental implants. To schedule a consultation, Dr. Olson can be reached through his website or by phone at (417) 823-4900.