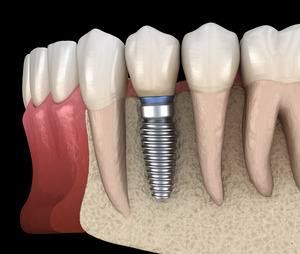 When you decide to replace your missing teeth with dental implants, it's important to be aware of what options are available. Traditionally, dental implant posts have been made out of titanium, but thanks to advancements in dentistry, nowadays zirconia is also a viable choice. Which type of implant is right for your smile? Here's what you need to know to make the decision that's best for you.
What are the Advantages and Disadvantages of Titanium Implants?
There are several reasons why titanium has long been the material of choice for placing dental implants. For one thing, it's extremely biocompatible, meaning it can easily form a strong bond with your jawbone without irritating your gum tissues. Furthermore, titanium implants have an extremely high success rate, and you can often count on them to last for decades. And since titanium implants can come in two-piece varieties, it's easier to place them at different angles as needed.
That being said, there are some potential drawbacks associated with titanium implants. If the patient has an allergic reaction to metal, their implants might fail; this is a very rare situation, but it is possible. Furthermore, the metal ions released from titanium implants may cause inflammation in patients who have diabetes and other autoimmune conditions. Finally, if the tissue around the implant post wears away, the dark metal might become visible, which can draw the wrong kind of attention.
What are the Advantages and Disadvantages of Zirconia Implants?
Like titanium, zirconia is highly biocompatible. It's also a very strong material that can resist corrosion and wear over the long term. Furthermore, zirconia can be shaded so that it matches the color of your natural teeth. That means even if the implant post is exposed due to worn-down gums, it won't detract from your smile's natural appearance.
On the other hand, zirconia is more prone to fractures than titanium. It is also only available in one-piece implants, so it may not be a viable choice for patients who need their posts placed at specific angles. Additionally, zirconia implants might have a higher failure rate than titanium ones, although it should be noted that there is limited evidence on this particular point.
So What Kind of Implant Should You Get?
The right answer varies from patient to patient. Titanium implants are a time-tested solution for tooth loss, but at the same time, zirconia implants can be a great alternative for those who are concerned about metal allergies. At the end of the day, it's up to you to decide which kind of implant works best in your case. Remember that you can always schedule a consultation with your dentist to see what recommendations they have for restoring your smile.
About the Author
Dr. Scott Olson earned his dental degree at the University of Florida Dental School. He has made it his goal to continue his education through institutions like the Kois Center, the Dawson Academy, and the Engle Institute. At Olson Family Dental in Springfield, he can complete the entire dental implant process under one roof. To schedule a consultation with Dr. Olson, visit his website or call (417) 823-4900.