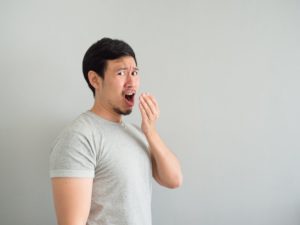 Chronic halitosis sounds like a rare, scary disease that you may contract on the night of Halloween. However, this is actually a common problem that affects millions of Americans—you may know it as bad breath instead of its scientific name. Bad breath can be incredibly embarrassing, but thankfully, there are some steps you can take to prevent it.
Brush Twice a Day
Plaque and food debris linger in your mouth unless they're cleaned away. That's why brushing your teeth twice a day for two minutes each session is so important. Make sure that you angle your brush at 45-degrees for the most thorough cleaning. Staying on top of this routine will make it more difficult for bacteria to grow and cause an odor.
Don't Forget to Floss
Bacteria and food debris can easily get caught in between teeth, which is why you should floss once a day. If you think about it, each tooth has 5 sides: the front, back, top, right side, and left side. If you don't floss, you're leaving 2 sides of each tooth uncleaned, which allows bacteria to breed, leading to bad breath.
Clean Your Tongue
As a part of your brushing routine, you should always clean your tongue. It has many tastebuds that come in contact with the food you eat throughout the day, which is why your tongue can contribute to bad breath. To combat this problem, clean/scrape your tongue! There are tongue scrapers you can buy at your local drugstore, but if you don't have one, your toothbrush will work just fine.
Add Mouthwash to Your Routine
Brushing and flossing are the most vital parts of your at-home dental hygiene routine, but you can also add mouthwash for an extra layer of cleaning. Parts of your mouth can't be reached with brushing and flossing, and that's where mouthwash can help! Just make sure that you're using a nonalcoholic mouthwash with the American Dental Association (ADA) seal of approval.
Visit Your Dentist
Last but certainly not least, visiting your dentist regularly will prevent bad breath. Preventive checkups catch any oral health issues causing odor before they get worse, and professional cleanings remove hardened plaque that couldn't be cleaned away at home. Essentially, these visits safeguard your smile while helping you maintain great-smelling breath.
Are you ready to keep your smile fresh and free of odor? Just remember these tips to avoid spooky chronic halitosis and grin with a good smell.
Meet the Dentist
Dr. Scott Olson provides his patients with thorough preventive checkups to keep their smiles healthy and smelling nice. He is always happy to help if you have any questions about brushing technique or other ways to keep your mouth fresh. To schedule an appointment with Dr. Olson, don't hesitate to contact his office through his website or by phone at (417) 823-4900.