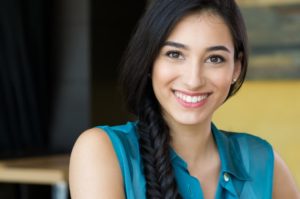 Have you had cavities or tooth decay in the past? If so, there is a good chance you have metal or amalgam fillings. These restorations are silver, making them incredibly easy to notice in contrast with your white teeth. Thankfully, there is a different, more aesthetically pleasing option, plus it comes with other unique advantages! Your dentist in Springfield uses tooth-colored fillings to treat cavities to maintain beautiful smiles and great dental health. Keep reading to learn more about tooth-colored fillings and how you can benefit from them.
But First, When Are Fillings Necessary?
You've probably heard about cavities, but do you know what they really are? When sugars interact with bacteria in your mouth, they create acids that can eat away at your enamel. Cavities occur when small holes or damage is formed, sometimes exposing the sensitive inner portion of your tooth. That's where fillings come in! They can restore this area to protect your tooth from pain and strengthen it for the future.
What Are Tooth-Colored Fillings?
Tooth-colored fillings are made of a special blend of resin and silica that mimics the appearance of your natural smile. This resin is placed on areas of decay to repair your tooth while maintaining its appearance. Your dentist will adjust the height of your fillings before polishing them to reflect light like your natural teeth. This treatment typically only requires one visit and the only discomfort you may feel is some very slight soreness afterward.
The Benefits of Tooth-Colored Fillings
Tooth-colored fillings come with some advantages that you simply won't get with traditional amalgam ones. Primarily, they blend in with the rest of your smile so others won't notice that you've had previous decay. However, an additional benefit is that tooth-colored fillings are more comfortable. Metal expands and contracts with changes in temperature, which can often cause sensitivity for those with amalgam fillings. However, the tooth-colored composite resin completely eliminates this problem! These restorations are also incredibly durable, allowing you to enjoy them for years to come!
Am I a Candidate for Tooth-Colored Fillings?
Usually, candidates for tooth-colored fillings are patients who need restorations for their decay. However, your dentist can also remove your amalgam fillings and replace them with tooth-colored ones if you wish to enjoy their benefits. The easiest way to know if tooth-colored fillings are right for you is to visit your dentist for a consultation. They will carefully examine your mouth and the areas of decay before deciding if this treatment is best for you.
Are you ready to make the switch to tooth-colored fillings? Contact your dentist to see how you can benefit from this amazing option.
Meet the Dentist
Dr. Scott M. Olson wants his patients to have access to the best treatment options, which is why he offers tooth-colored fillings along with many other modern dental services. If you have any questions, or if you want to set up a consultation, he can be contacted through his website and by phone at (417) 823-4900.