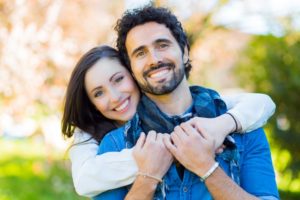 It's almost the end of April, which means that June is just around the corner. If you're a bride or groom with a wedding date just a few weeks away, then now is the time to schedule teeth whitening in Springfield. With either in-office or at-home teeth whitening, you can be sure your smile will look great in all of those photographs on your big day!
Teeth Stains and Discoloration
Hardly anyone has a smile that is naturally stark white. Teeth typically have an undertone of yellow, brown or gray. Add stains and discoloration to that and your smile may not look its best.
Stains are usually the result of deeply colored foods and beverages such as berries, tomato juice, coffee, tea or red wine. Tobacco—both smoking and chewing—is another common cause of stains on teeth.
In addition, there are certain medications as well as chemotherapy treatments and radiation that lead to discoloration. Even ingesting too much fluoride when you were a child can leave brown marks on teeth. And if you happen to be a "mature" bride or groom, well then you're teeth have simply had more time to succumb to the affects of aging.
Options for Teeth Whitening in Springfield
Your cosmetic dentist in Springfield offers two types of teeth whitening: in-office and at-home. With the in-office teeth whitening treatment, you'll be in and out of the office in about an hour. After placing a protective dam over your lips and gums, a bleaching solution of 15 to 35 percent carbamide peroxide is applied to your teeth. Depending on the treatment you're having, a special lamp may be shone on your teeth to speed and enhance the whitening process. When the treatment is completed, your smile will be several shades whiter.
If planning the wedding has you too busy to break for teeth whitening in the office, then there is also a take-home kit. We'll give you custom-fitted mouth trays and professional grade whitening solution. Fill the trays and place them in your mouth over your teeth. Wear the trays for about an hour a day for one or two weeks until the desired results are achieved.
To keep your teeth their whitest until your wedding, avoid stain-causing foods and use a straw when drinking beverages like coffee, tea and red wine. And quit smoking!
Congratulations! Please call our office today to schedule your appointment for teeth whitening in Springfield.
Meet the Doctor
Dr. Scott Olson has been making people smile since 1998. In addition to teeth whitening in Springfield, he offers a number of other cosmetic dentistry procedures including porcelain veneers, composite bonding and ClearCorrect Braces. Call Dr. Olson's office today!