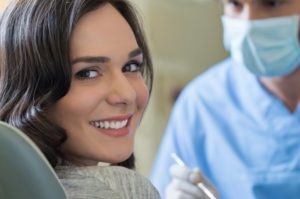 Do you have one of those big life events coming up? Whether it's a wedding, major job presentation, or family gathering, it's important to look and feel your best. Of course, your smile is one of the first things that someone notices about you, which is why a bright, dazzling grin can go a long way. Whitening teeth before significant events is incredibly popular but do you know when to start treatment? Read to learn your answer!
When Should You Whiten Your Teeth?
The best time to whiten your teeth depends on just a few different variables, however the most important factors are your time and budget. How much do you want to spend on your smile? And how much time do you have before your big day? Teeth whitening options range in effectiveness, convenience, and time, which is why you must answer these questions first before making a final decision.
Which Whitening Option is Best for You?
Once you decide your time and budget, you can start to consider a few options. If you have at least a month before your event, over-the-counter teeth whitening is a great solution because it's cost-effective and convenient. Use whitening strips as instructed, and you will begin to notice results when 1 to 2 weeks have passed.
However, if you're like most, you probably don't have a month or more to prepare. If you received short notice, or you've just been putting off your treatment, you may need to pay a little more to get the results you desire. Thankfully, in-office teeth whitening is a very convenient and effective way to get a beautiful smile. Using professional-grade whitening gel and a special heating lamp, your dentist can safely brighten your teeth up to 8 shades in just a single visit. While this treatment tends to cost more than over the counter products, it lasts as long as 6 months to a year with proper care, and the whitening is more noticeable.
Don't Forget to Care for Your Smile
No matter which whitening treatment you choose, it's integral that you maintain a good oral healthcare routine in order to prevent staining and discoloration. Remember to brush twice a day, floss once a day, and maintain regular visits to your dentist's office. As an extra precaution, you can use nonalcoholic mouthwash that will give your smile an extra layer of freshness while fighting discoloration.
The big day is almost here! Now that you know exactly what to do, you can get ready for your event with the confidence of knowing you'll have an amazingly white set of teeth!
Meet the Dentist
Dr. Scott Olson is a skilled dentist in Springfield who loves helping his patients look AND feel better. He provides both in-office and at-home whitening to make it easy to get your dream smile for an upcoming activity. To schedule an appointment, Dr. Olson can be reached through his website or by phone at (417) 823-4900.