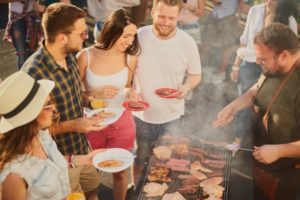 You can hear the sizzle and smell the smoke – summer is officially here, which means lots of time spent with friends, family, and of course, barbequing. The warmer months bring many pleasures, but none is better than delicious meat. If you have missing teeth or loose dentures, you may be missing out on some of your favorite meals. However, if you've made the switch to dental implants, you can dig into almost all the yummy, smokey goodness than the summer has to offer. Keep reading to learn about some of the snacks you can sink your teeth into as well as when it's a good idea to take it easy.
Eat Crunchy Fruits and Veggies
Meats often get the spotlight, but the summer brings so many refreshingly crunchy fruits and veggies. Whether eaten raw or on the grill, items like carrots, celery, apples, and more are great for your body and your teeth! They act as natural toothbrushes, scrubbing your smile and stimulating saliva flow. For those with dentures, these foods can often be difficult to eat. However, implants let you maintain a nutritious and delicious diet.
Carefully Consume Corn
One of the few foods that may cause you some problems is corn on the cob. This grill-time favorite is a summer staple, but kernels can often get stuck in between your implant and your gums. While it is safe to eat corn on the cob with your dental implants, practice caution. If you want to be on the safe side, you can preemptively cut the corn off of the cob to make it easier to consume.
Dig into Juicy Steaks
And now, the moment you've been waiting for – yes, you can eat steaks! What used to be a difficult, sometimes uncomfortable experience will feel natural with dental implants. Instead of avoiding the juicy, flavorful meats that come fresh off the grill, dental implants allow you to enjoy your smile's full potential. As a tip, especially if you're still getting used to chewing with your new smile, try to eat softer meats. For steak, stick to a cook temperature around medium rare so your meat doesn't become too tough.
Unsure? Ask Your Dentist!
If you ever run into a food that you're not quite sure about, please don't hesitate to contact your dentist. For the most part, dental implants are made to work exactly like your natural teeth. That said, it's still up to you to protect them by avoiding extra hard foods, chewing on ice cubes, using your teeth as tools, or other habits that may cause harm to your implants and smile.
Summer is waiting! Now that you know what you can munch on with your dental implants, you can lick your lips in anticipation of your next meal.
Meet the Dentist
Dr. Scott Olson is a friendly, caring dentist who has completed advanced training and education that allows him to place and restore dental implants at his convenient Springfield office. For any questions, he can be reached through his website or by phone at (417) 823-4900.