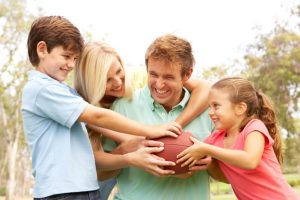 It's our favorite time of year here at Olson Family Dental. Haunted castle tours, trick or treating, and then Thanksgiving, Christmas, and New Years. But you know what? All this celebration can really take a toll on your teeth and gums — and children are at a higher risk for developing cavities or infection this time of year. So how to keep your mouth healthy without sacrificing your fun holiday season? It's simple with a few preventive steps from your Springfield dentist.
Watch Out for These Holiday Foods
We don't want you or your little ones to miss out on any of the fun of the holiday season — October, November, and December are some of the happiest (and most delicious) months of the year. But there are a few things you should be careful with.
Hard candy, toffee, and caramel: Chewy or sticky candy and sweets put your existing dental work at risk, and they are also more prone to getting stuck in your teeth and causing decay.
Hot ciders and fruit drinks: Sipping warm, sweet cider and other drinks puts your teeth at an increased risk for cavities as you're more likely to drink slowly and let them linger in your mouth. Please enjoy cider, wassail, and your favorite holiday beverages — but just keep them to a limit.
Halloween treats: While your little one is stocking up on candy at the end of this month, make sure you set a game plan for protecting their smiles. Before trick or treating, fill them up with a balanced, nutritious meal. After halloween night, limit candy consumption to one room in your house to avoid overeating.
Nuts: Holiday desserts are typically filled with delicious nuts — pecans and walnuts are our favorites. But be careful when biting into hard or caramelized desserts, as they can take a toll on your tooth enamel. Break off a piece first, rather than biting directly in.  
Practice Excellent Prevention During the Holiday Season
You don't have to sacrifice celebrating during October, November, and December to keep your teeth and gums healthy. More than ever, your regular dental hygiene habits are absolutely crucial. Brushing for two minutes, at least twice a day or after each meal, and flossing daily will maintain your oral health in the face of candy, pies, and all your favorite holiday treats.
That's what you can do at home to keep your smile healthy, but what else? We're leaving off the third piece of the oral health puzzle: a dental cleaning and checkup. Scheduling your preventive visit to Olson Family Dental during the holiday season will go far in preventing cavities and gum disease. We'll remove the plaque and tartar from your teeth, and check to make sure there's not any existing decay or infection in your mouth. And we can take protecting the youngest smiles in your family one step further with dental sealants and fluoride treatments.
When was your last visit to the dentist? If it's been more than six months, it's past time — and there's never been a better time than during the holiday season! Request an appointment with your dentist in Springfield today.