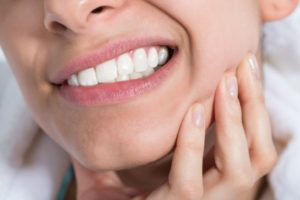 With millions of Americans being affected by tooth sensitivity, how do you know if yours is a real cause for concern? Some sensitivity can be a sign of needing an appointment with your emergency dentist in Springfield, while other discomfort is completely normal. Dental offices are closed due to the outbreak of Covid-19, but they're still treating emergencies. That said, it's more important than ever to understand when an emergency visit is necessary, and when you should leave professional services to those who need it most. Keep reading to learn more about your tooth sensitivity!
When is Teeth Sensitivity Normal?
It's estimated that 1 in 8 people have sensitive teeth. If you're one of them, you probably feel some sort of discomfort when you eat or drink very hot or cold beverages. When you take a bite of ice cream, is there tingling or sensitivity? This can occur for numerous reasons like receding gums that expose your tooth roots, worn down tooth enamel from grinding, and more. While this sensitivity doesn't require an emergency visit, there are some steps you can take to minimize discomfort.
How to Help with Sensitivity
Some of your favorite foods are probably hot and cold items, so you can't just avoid them. Thankfully, there are some ways you can help with your tooth sensitivity. Primarily, you can switch to a desensitizing toothpaste that helps block this sensation. You can also get fluoride treatment and try to intake more fluoride by drinking tap water. This is a naturally occurring mineral that can actually strengthen your teeth. Lastly, for those with receding gums, you may need a gum graft as a sustainable solution for protecting your tooth roots.
When Should You Visit Your Emergency Dentist?
While tooth sensitivity can be normal, other times it can tip off a dental emergency. In fact, sensitivity can often be the first sign of an infection. Also called toothaches, infection that occur inside the tooth can be incredibly painful, requiring an immediate emergency visit. The sooner you can see your dentist, the higher your chances are of saving your tooth. Your dentist in Springfield, MO will need to provide root canal therapy to remove the infected tissue while keeping the rest of your tooth intact. This prevents infection from spreading to your jawbone and other teeth, protecting your smile from tooth loss in the process. Without seeing your emergency dentist, your tooth sensitivity could easily turn into a much more extensive and expensive issue.
Remember this information if you or a loved one ever experiences tooth sensitivity. If you have any questions, don't hesitate to contact your dentist!
Meet the Dentist
Dr. Scott Olson has closed his doors in compliance with Springfield's efforts to control the Covid-19 outbreak, but he is still here to help with dental emergencies like toothaches. If you have any concerns or questions about your smile, he can be reached through his website or by phone at (417) 823-4900.