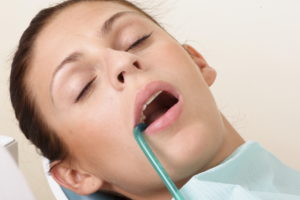 Welcome to 2018! What are your New Year's resolutions? If you're like many people, then you may have decided to eat healthier, exercise more and generally try to take better care of yourself. That should include seeing the dentist regularly for exams and cleanings. But if just the thought of seeing the dentist sends chills down your spine, then you may have a tough time sticking to your resolution. You don't have to worry though, because when you see a sedation dentist in Springfield you'll be able to relax while important dental work is completed.
Oral Conscious Sedation
One of the most common and reliable types of sedation dentistry is oral conscious sedation. If you're moderately anxious about seeing the dentist then this type of sedation may be ideal for you.
It doesn't matter whether you are about to come in for a routine dental cleaning and exam or a more involved procedure such as a root canal or dental crown. Oral conscious sedation will help you relax and drift away so your family dentist in Springfield can complete the treatment your smile needs. In fact, we may be able to combine several procedures into one appointment while you're sedated, thereby saving your time and money.
Using oral conscious sedation is a simple process. The dentist will prescribe a small dose of an oral sedative that you'll take at a designated time before you're appointment. Soon after, you'll begin to feel your body relax and your mind will be at ease.
Because you've taken a sedative, you will be required to have a relative or friend drive you to and from your office. Once you're back home, you'll need to rest. Don't plan to drive, work or operate heavy machinery on the day you've had oral sedation.
While you're in the office and comfortably sedated, the 65807 dentist will take care of your smile. Although you are technically awake during treatment, you may not be able to recall what transpired during your appointment. At the end of your visit, you'll be allowed to rest until you feel capable of safely walking to the car.
All the Comforts of Home
Even if you don't need sedation dentistry, the office is outfitted with amenities and technology to help you relax. These include:
Memory foam padded chairs and headrests
Televisions
Aromatherapy
Headsets to listen to CD's
Nitrous oxide or laughing gas for very light sedation
Coffee, juice and bottle water
If you've resolved to take better care of yourself in 2018, then call today to schedule an appointment with the dentist.
Meet the Doctor
Dr. Olson is a dentist in 65807. He and his team offer comprehensive dentistry to patients of all ages. Call our office today to schedule an appointment for yourself or your child.