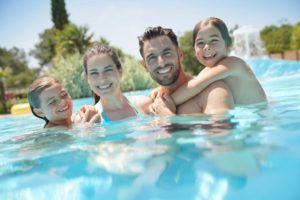 Summer is finally here, and after all that waiting, the last thing you want to deal with is a painful dental problem. These emergencies can never be completely prevented, however there are some simple steps you can take to minimize your risk and protect your smile. Read on to learn the 5 easiest and most effective ways to have fun in the sun while avoiding dental disasters.
#1. Enforce Pool Safety
Dental accidents happen, but pool accidents happen more often. Slips and falls are one of the main causes of cracked, broken, and lost teeth, which is why it's vital to ensure that you and your family are being safe by the pool. Don't run, dive headfirst into shallow water, or do any physical activity that may cause trauma.
#2. Prepare for Sports & Physical Activity
Do you or your kids play sports? If so, make sure that everyone is wearing a mouthguard. This will not only protect your teeth, but it will minimize concussion, injury, and the force that your jaw experiences from a hit. A mouthguard should be worn even during sports you may not think are traditionally physical, including baseball, skateboarding, biking, volleyball, and more.
#3. Eat Healthy Summer Snacks
You may want to reach for cold sodas, ice creams, or other summery treats, however these items put your teeth at risk of cavities. They contain high amounts of sugar, which create acids that eat away at teeth. Choose water to stay hydrated and wash away bacteria instead. You can also have fruits and veggies on hand for your entire family – these act as natural toothbrushes, scrubbing away plaque and bacteria.
#4. Don't Forget Your Daily Dental Hygiene
It's easy to forget about your oral health routine during the most fun time of the year, however it's vital to remain diligent. Brush your teeth twice a day, floss once a day, and use nonalcoholic mouthwash to clean areas that are hard to reach. Additionally, remember to always bring your supplies during your summer vacations!
#5. Schedule Your Dental Checkups
Do you have your next checkup and cleaning on your calendar? If not, it's time to schedule one. These important visits allow your dentist to catch any dental issues like decay or infection before they become more severe and costly. One of the easiest ways to lower your risk of dental emergencies is simply by seeing your dentist twice a year.
Ready for fun in the sun without dental pain? Just follow these tips and enjoy a summer full of healthy smiles.
Meet the Dentist
Dr. Scott Olson is a highly trained dentist who offers a variety of services, including custom-made mouthguards, personalized dental crowns, and thorough dental checkups. For any questions, he can be reached through his website or by phone at (417) 823-4900.