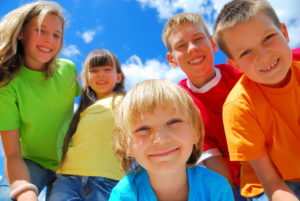 Summertime is great for kids, but it can be a real struggle for parents. Keeping up with our children all day, planning activities, searching for caregivers, and other issues arise over the summer. Another thing to keep in mind to ensure your kids have a healthy and safe summer is oral health. In this post, we'll talk about some of the things you should keep in mind to help kids maintain their optimal level of oral health all summer long.

1 – Stick to a Routine
One thing that changes over the summer is sleeping and activity schedules (or lack of schedule). Kids are unlikely to wake up and go to bed at the same time every day the way they do during the school year, but they should still keep up with their oral hygiene first thing in the morning (or afternoon) when they wake up and before they go to bed.
2 – Monitor Their Diet
During the school year, parents hope that kids are getting nutritious meals at school, but older kids especially, have a little more flexibility during the summer. If kids are consuming sugary or acidic drinks and snacks, consider helping them to improve their oral hygiene to avoid tooth decay and other oral health concerns. Of course, it's always best to limit consumption of these potentially damaging foods and drinks.
3 – Keep Kids Hydrated
Water is essential, especially in the summer. Dehydration negatively impacts the whole body, but it can also lead to dry mouth. This lack of saliva production allows foods and plaque to stay on teeth, leading to damage.
4 – Wear Protective Mouthguards
If your kids are participating in summer sports, make sure they have high quality athletic mouthguards to protect their teeth, gums, and facial structures from potential damage due to impact with other players, sports equipment, or hard surfaces. Remind kids to wear their sportsguards during games and practices!
5 – Make the Most of a Flexible Schedule
Flexible summer schedules are also a great opportunity to schedule dental exams and complete more advanced treatments. If you schedule dental exams for kids in mid-June, their six month exam will occur in mid-December when they'll likely be off for the holidays. You may also want to schedule advanced treatments like tooth extractions or get started with orthodontic treatments over the summer when kids have more flexible schedules.
 Meet Dr. Olson
At Olson Family Dental, we're dedicated to helping patients of all ages to achieve and maintain their healthiest, most attractive smiles. Friendly Springfield dentist, Dr. Scott Olson, especially enjoys working with young patients. Many adults who have dental phobias or anxiety, developed their discomfort with visiting the dentist as kids, and Dr. Olson wants to help the young people who visit his office to create only the most positive associations with visiting the dentist. If you want to learn more about keeping kids smiling this summer and all year long, call to schedule an appointment for your kids, yourself, or the whole family. Our team offers comprehensive dental care for every member of the family all under one roof.