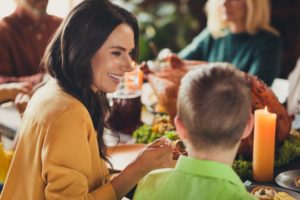 The holidays are probably your favorite time of the year! Of course, what's not to love? There's time with family, gift-giving, relaxation, but most of all, food. Delicious sweets, treats, and other edible items are often the most anticipated part of Thanksgiving. However, without proper precautions, you could experience dental issues like cavities. That's why your dentist has included 5 common dental hazards (and how to avoid them) for a healthy Thanksgiving!
#1. Sugar
Sugar is one of the main causes of dental problems like cavities, decay, and infection. When sugar interacts with the bacteria in your mouth, it eats away at your enamel and gums. Sweet potatoes, marshmallows, cranberry sauce, various pies, and much more contain high amounts of sugar, so you should try to see if you can minimize your intake of these items. If you simply must indulge, remember to clean your mouth out periodically throughout the day.
#2. Sticky Foods
Caramel, candied pecans, marshmallows, and other holiday staples are high in sugar, but they also stick to your teeth. This allows the sugar to stay in contact with your enamel for longer periods of time, raising your risk of decay.
#3. Red Wine or Fruit Juice
Red wine (and fruit juice for kids) is often passed around the dinner table to celebrate Thanksgiving. However, the acidity in these liquids can damage and decay your enamel if you're not careful. Plus, darker drinks can cause staining and discoloration. Additionally, alcoholic drinks with sugar can also pose a risk. In order to keep your teeth protected, drink water after each time you sip your beverage to wash away the liquid.
#4. Sharp or Hard Foods
During Thanksgiving, the last thing you want is a dental emergency. That's why it's important to watch out for extra hard or sharp foods. Items like crackers, nuts, hard candies, and more can get caught in between teeth, chip enamel, and damage orthodontics.
#5. Continuous Snacking
Protecting your smile isn't just about what you eat, but it's also the amount. Constantly snacking throughout the day is often hard to resist with tons of yummy food at your fingertips. However, this consistent consumption doesn't give your mouth a break to wash away the previous food. In turn, you're putting yourself at higher risk of cavities.
Are you ready to enjoy Thanksgiving while keeping your smile safe? Remember this useful information from your family dentist to avoid some of the dental hazards of the holiday.
Meet the Dentist
Dr. Scott Olson is a skilled dentist who provides thorough checkups and preventive dentistry to keep his patients healthy. He knows that oral health extends far beyond his office, which is why he's provided some useful information about how to protect your smile. If you have any questions, he can be reached through his website or by phone at (417) 823-4900.