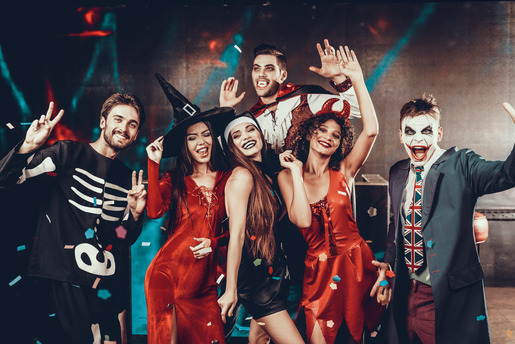 Halloween is just around the corner, and if you're anything like us, you're eager to show off your radiant smile while getting into the spooky spirit. Whether you're trick-or-treating with the little ones or attending a Halloween bash, choosing a costume that complements your pearly whites can make all the difference. In this blog post, you'll learn about some costume ideas that not only exude Halloween vibes but also put your smile front and center.
Cheshire Cat
Enter Wonderland with a Cheshire Cat costume! This iconic character from Lewis Carroll's classic tale is known for its wide, toothy grin. Wear a pink and purple striped ensemble, add a cat tail and ears, and finish the look with a vibrant shade of pink lipstick. And, of course, don't forget to flash your gleaming teeth to complete the ensemble.
Dentist
Why not honor the professionals who protect our smiles by dressing up as a dentist? This costume exudes professionalism and care while keeping your teeth in the spotlight. Opt for a white lab coat, accessorize with dental tools (real or fake), and don't forget a stethoscope. Your genuine smile will be the perfect complement to this healthcare-inspired attire!
Vampire
Sink your teeth into the classic vampire costume, a Halloween staple. Channel your inner Dracula with an elegant black suit or gown. Add a set of fangs for authenticity, but make sure they don't overshadow your own smile. A touch of red lipstick adds a final flourish. This costume combines elegance with the macabre, letting your smile shine through in all its brilliance.
The Tooth Fairy
Embrace the enchanting world of dental folklore by becoming the Tooth Fairy. This whimsical costume exudes magic and wonder, allowing you to spread smiles wherever you go. Wear a fairy-inspired outfit complete with wings, and, of course, a crown. Accessorize with a pouch for collecting lost teeth, and let your sparkling teeth take center stage, reminding everyone of the magic of a healthy smile.
Nerdy Person
Channel your inner geek with a Nerdy costume that's both endearing and smile-centric. Put together a quirky outfit with high-waisted pants, suspenders, oversized glasses, and a pocket protector. If you have braces, you can make the look pop by investing in multicolored rubber bands. Let your enthusiasm for knowledge and your genuine smile be the focal point of this charming and relatable costume.
About the Author
After earning his dental doctorate at the University of Florida, Dr. Scott Olson's passion for learning has never waned. He advances his education through prestigious institutions like the Kois Center and the Dawson Academy. One of the most rewarding aspects of his job is establishing meaningful connections with his patients. Dr. Olson is eager to engage in conversations about making the best choices for your smile, especially when it comes to holiday festivities. You can schedule an appointment through his website or call (417) 233-0181.