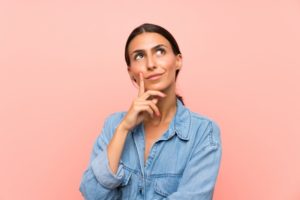 Have you noticed gray teeth negatively affecting your beautiful smile? This discoloration can take away from your confidence in addition to your appearance. Whether it's one tooth, or your entire smile, it's time to get down to the bottom of this issue. Read on to learn the most common causes for gray teeth as well as some steps you can take to reclaim your beautifully white grin!
What's Causing Your Gray Teeth?
There are a variety of factors that could be contributing to your discoloration. Here are some of the most common causes of gray teeth:
Tetracycline: This antibiotic can cause children ages 8 and younger to experience gray teeth while their smiles are still growing in.
Dental restorations: Some materials used for restorations like fillings and crowns can cause the affected area to turn gray.
Injury: Trauma, like an injury during sports or physical activity, can cut off the blood flow to the tooth, which will cause it to lose its whiteness.
Tooth decay: Poor dental health that leads to decay or infection can cut off the tooth's blood flow, causing it to die and turn gray.
Aging: Over time, your teeth will lose their bright, white color due to natural wear and tear. Unfortunately, this is unavoidable, however proper care can prolong grayness.
How Can Restore Your White Smile?
Typical teeth whitening tends to work better on yellowing and discoloration instead of gray teeth. However, you can still get great results from professional teeth whitening – it will all depend on how dark the grayness is that affects your smile. The best way to get a personalized recommendation is to speak with your dentist. They may recommend one or more of the following treatment options:
Whitening toothpaste: Simply brush twice a day as you would with whitening toothpaste to brighten your smile.
At-home whitening strips: While not very effective for most cases, you may start to see some improvement in your grin after about 2 weeks of use.
In-office teeth whitening: Extra strong and effective, professional, in-office teeth whitening is the quickest way to whiten your smile up to 8 shades.
Veneers: If other treatments like whitening don't work, veneers are a great option. These custom-made thin shells of dental porcelain cover the entire front surfaces of the teeth, changing their size, shape, and shade in the process.
Don't let your gray teeth get in the way of a beautiful, confident smile. Now that you know possible causes, contact your dentist to take your first step toward a grin without gray!
Meet the Dentist
Dr. Scott Olson is a highly trained dentist in Springfield who offers a wide range of amazing services that will help you enjoy a brighter, whiter smile. To schedule an appointment, he can be reached through his website or by phone at (417) 823-4900.