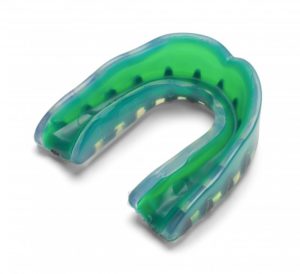 Do you get headaches that seem like they come out of nowhere? Do you have tooth sensitivity? These problems are likely caused by bruxism, also known as teeth grinding. This problem will typically get worse at night, which is why it's hard to even recognize that you're grinding your teeth. If you suffer from bruxism, you're not alone. About 20% of Americans grind their teeth, but thankfully, there's a solution. Keep reading to learn how your dentist can relieve your headaches and fix tooth sensitivity in Springfield with a custom-made mouthguard.
But First, the Dangers of Bruxism
Teeth grinding may seem like a harmless habit you may pickup while stressed, but the truth is, it can cause serious issues. Primarily, bruxism can weaken your teeth, wearing away enamel, which causes sensitivity and potential cracks. However, teeth grinding also puts unnecessary pressure on your jaw, leading to headaches and jaw pain from extra physical stress.
How a Mouthguard Can Help
While a mouthguard won't break your clenching or grinding habit, it will effectively protect your teeth from the dangers of bruxism. It will also relieve some of the pressure caused by grinding, allowing your jaw to feel better and also reducing headaches. This can be worn during the day, at night, or both depending on your condition. If you suspect that you grind your teeth, or if you've been experiencing headaches and tooth sensitivity, contact your dentist as soon as possible for treatment.
It's important to keep your mouthguard clean, which means rinsing and washing it routinely. Be sure to avoid using hot water because it can permanently warp your oral appliance. Also, use a soft-bristled toothbrush when scrubbing it to avoid scratching.
How Your Mouthguard is Made
Unlike products that you can buy from the store, a professional mouthguard is custom-made to fit your smile. The results are a more effective, comfortable, and longer lasting mouthguard than anything you could purchase over the counter. First, your dentist will make an impression of your smile, which will be sent to a professional lab. The facility will create a personalized acrylic mouthguard based on your impression, sending it back to your dentist once it's finished. Once back at your dentist's office, they will ensure that your mouthguard fits properly and make any adjustments if necessary. Finally, all that's left to do is to go home and enjoy a comfortable, protected smile.
Are you ready to give yourself some relief? Contact your dentist to discuss a possible mouthguard for protected teeth and ultimate comfort.
Meet the Dentist
Dr. Scott Olson believes in treating more than just your teeth, which is why he offers custom-made mouthguards to help patients feel better and more comfortable. He currently owns and operates Olson Family Dental, and he can be reached through his website or by phone at (417) 823-4900 for any questions.