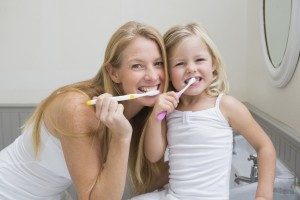 Next to home oral hygiene, nothing is more important to the health of your family's smiles than your family dentist in Springfield. When it comes to choosing a dentist for your family, it can be a bit of a challenge. There are many excellent options in the area, but not all will be the right fit for your family. Your family has specific oral health needs, which will constantly change over the years. You need a dentist who can meet these diversified needs while also making everyone in your family feel comfortable. At Olson Family Dental, we provide complete dental services while keeping patient comfort the center of our focus.

Complete Family Dentistry
Each member in your family will require preventive care—even young children. We offer the cleanings and checkups your family needs to maintain oral health. We cater to patients of all ages, even children, to ensure the proper development of their teeth.
We understand that not everyone is comfortable when visiting the dentist. Although we go the extra mile to ensure every patient's peace of mind, we know some have dental fears. We offer sedation dentistry to help all patients receive the care they need while promoting comfort. No matter if you have a family member who is fearful of the dentist or one who needs an extensive procedure, we will help them relax with sedation.
As a Springfield family dentist, we know there will likely come a time when someone in your family needs a little special care. In addition to periodontal therapy, we also provide complete restorative dentistry. We use the latest dental advancements to restore the health and function to your teeth. We keep in mind the final appearance of the tooth, which is why we provide certain cosmetic procedures, such as tooth-colored fillings.
Our cosmetic procedures will ensure your family has the highest level of confidence for a lifetime of beautiful smiles. We offer a large variety of cosmetic procedures, including custom dental crowns, ClearCorrect invisible braces, and teeth whitening. If you want more drastic results, we offer full-mouth reconstruction, cosmetic bonding, porcelain veneers, and much more.
We believe in always being there for our patients, even in between regular dental appointments. We offer emergency dentistry to help you through difficult times. When an emergency strikes, we will be there for your family with immediate dental care.
Comfortable Care You Can Trust
We understand the importance of comfort when visiting the dentist. If your family does not feel comfortable, you will likely avoid the dentist. We do not want to see anyone's dental care put on hold. We strive to promote each patient's comfort with individualized dental services.
We take the time to get to know our patients to address questions and concerns to reach oral health goals. We create treatment plans that are based on your personal preferences and desires without compromising the high-quality results your family deserves.
Choose a dentist who can care for your entire family's dental needs from one convenient location. We will treat your family like our own. Contact Olson Family Dental today to schedule a consultation.