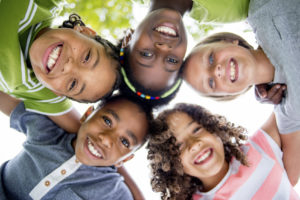 Is there anything more heartwarming than your children's smiles? Well yes actually—knowing that those smiles are healthy, too, should make parents feel good. You do a lot to make sure your children's oral health is in top condition. Did you know that helping your children manage stress can be an important influence? Read on to learn more about how stress can impact a smile and what your family dentist in Springfield recommends.
Stress in Kids
A number of different things can trigger stress in children. Some are quite similar to stressors in adult life such as world events, natural disasters, war, parental financial worries, parental divorce and of course the death of someone a child was close to.
In addition to these, a preschooler may experience stress from separation anxiety. As a child matures, academic and social pressures can be very stressful. These triggers can initiate a physical response that may affect a child's oral health.
How to Recognize Stress in Your Child
The American Psychological Association lists the following as signs that may indicate a child is under stress:
Moodiness or irritability
Telling lies
Bullying friends or siblings
Defiance toward parents or teachers
Finding a new set of friends and leaving others behind
Sleeping more or less than usual
Headaches or stomachaches
Changes in eating habits
Unhealthy habit or behavior regression
The Effects of Stress on a Smile
Stress can affect that precious smile in many ways. If the stress happens to be the result of family finances, then preventive and restorative dentistry may be sacrificed. In addition, a tighter budget may mean that children eat less healthy foods and more sugary choices that could lead to more cavities. Finally, stress is often physically expressed in young children who revert back to thumb sucking or teeth grinding.
Recognizing and Managing Stress
If you notice any of the signs of stress mentioned above in your children, then here are some ways you can help:
Make sure your children get enough sleep and eat a healthy diet
Spend quality time while children every day
Talk to your children about what might be bothering them—don't shy away from the topic
Schedule regular physicals with your children's pediatrician
Maintain twice-yearly dental checkups with your Springfield dentist
Schedule an appointment with a school counselor or mental health professional if the stress becomes unmanageable
Meet the Doctor
Dr. Olson is a dentist in 65807. He and his team offer comprehensive dentistry to patients of all ages. Call our office today to schedule an appointment for yourself or your child.