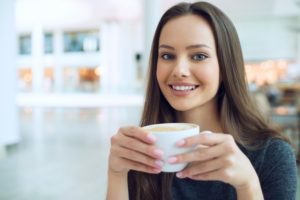 Name one thing that's worse than someone telling you that you have bad breath? Someone not telling you! If you don't know, then you may think that your breath is fine and, therefore, not do anything about that offensive odor. And there are definitely steps you can take to eliminate bad breath, also called halitosis. A dentist in Springfield can help you win the battle against bad breath. Read on to find out what might be causing your bad breath and what you can do.
What Causes Bad Breath?
According to research, about 75 percent of bad breath is due to a condition in your mouth. These conditions include:
Foods and beverages that are known to cause bad breath such as onions, garlic, coffee and alcohol
Smoking and chewing tobacco, which also increase your risk of oral and pharyngeal cancer
Inadequate oral hygiene that leaves behind food particles and plaque
Dentures that aren't well cleaned or sanitized
Crevices in tonsils that trap particles of food
A dry mouth, which can result from certain medications, radiation, chemotherapy, mouth breathing or a problem with saliva production
How Is Bad Breath Treated?
The first recommendation for people with halitosis is more frequent brushing and flossing. How frequently? After every meal, if possible. With proper oral hygiene, you scrub away food particles that would otherwise stay trapped between teeth or in the cracks and crevices of your tongue. Eventually, they can lead to that offensive mouth odor.
Also, be sure to maintain your twice-yearly dental checkups. At these appointments, the dental team checks for signs of decay or gum disease. By fending off these dental problems, the dentist can help you avoid bad breath, too.
Other steps you can take to eliminate bad breath include:
Drinking plenty of water, because having a dry mouth can lead to bad breath
Chew gum with Xylitol to increase saliva production and neutralize the acids that can lead to tooth decay
Eat crunchy fruits and vegetable to naturally clean your teeth
If the problem remains, see your physician to make sure a general health concern isn't behind your bad breath
If you've been told that you have bad breath—or if you haven't been told and just want to avoid the problem—consult with your dentist. There are treatment options, so you don't have to feel self-conscious and worry about your breath.
Meet the Doctor
Dr. Olson is a family dentist in Springfield. He and his team offer comprehensive dentistry to address all aspects of oral health, including breath odor. If you need help solving this common problem, call our office today to schedule an appointment.