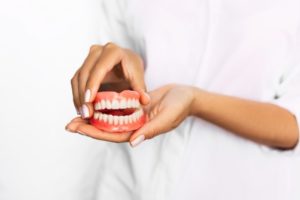 Viral trends happen every day on TikTok. However, the latest sensation isn't a dance, recipe, or how-to guide. Instead, Alicia, known as Princess Glitterhead on TikTok, has gained millions of views and followers for the videos she posts about her dentures. An attractive young mom with no teeth, the Toothless Princess is fighting the stigma surrounding dentures one video at a time. Read on to learn why her message is so important as well as some of the irreplaceable benefits of dentures.
Introducing: Princess Glitterhead
Alicia, better known has the Toothless Princess, has gained over 2.5 million followers and close to 18 million likes for her denture videos. How? Her smile became very damaged during pregnancy, eventually resulting in the loss of her entire smile. At this point, she thought she would never feel beautiful or confident again. Yet, thanks to implant dentures, she has a renewed perspective on what it means to smile as well as how beauty is defined. To raise awareness, she posted videos of her smile – she would show how her dentures snap in and out of her mouth.
How Did Videos About Dentures Go Viral?
A main reason for the overwhelming response to her videos is that she is shining a light on a problem that is rarely talked about. In fact, millions of Americans missing teeth are affected by low self-esteem and confidence. Alicia flips the script and shows off her confident, beautiful smile on TikTok for the whole world to see. Videos of her with and without dentures began to empower viewers facing the same issues and the rest is history! Many people have enjoyed a renewed sense of hope and optimism thanks to Princess Glitterhead and her important message.
How Implant Dentures Change Lives
The Toothless Princess makes life with dentures look so easy, snapping them in and out of her mouth. This is made possible by implant dentures! Combining dental implants with dentures, you can enjoy a lifelike, strong, and beautiful smile that feels natural. Surgically placed in the jaw, dental implants act as artificial tooth roots that keep the denture in place for easy speaking, eating, and smiling! This gives Alicia, and everyone with implant dentures, a boost in confidence thanks to their full, healthy set of teeth. An additional benefit is that dental implants stimulate the jawbone to prevent it from deteriorating, which keeps your facial appearance full and youthful.
Princess Glitterhead's bravery has now allowed millions with missing teeth to feel empowered. Now that you know her message and how you can benefit from implant dentures, what are you waiting for? Change your life with this amazing tooth replacement today!
Meet the Dentist
Dr. Scott Olson is a highly trained dentist who offers implant dentures, including the entire dental implant process, at his convenient Springfield office. To schedule a consultation, he can be reached through his website or by phone at (417) 823-4900.