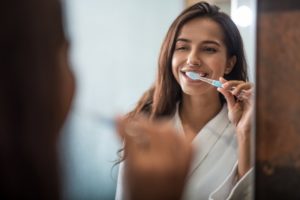 Dental implants help over 500,000 people each year get the full, healthy, and strong smiles they deserve. With a success rate of 95% even after 10 years, it's no wonder why so many are choosing dental implants for their tooth replacements. However, there is still a slim chance that they can fail or get damaged. That's why your dentist has included a list of bad habits to avoid with dental implants below!
Forgetting to Floss
While dental implants themselves cannot get cavities, the rest of your smile is still at risk of infection and decay. It's vital to floss so you can clean away plaque and bacteria that get caught between teeth. Flossing is also one of the best ways to prevent gum disease. The gums around your implants can become infected, putting your tooth replacements at risk if you don't floss regularly. Do this vital step once a day to keep your smile healthy and clean.
Skipping Dental Appointments
Regular brushing and flossing are important, however there is nothing you can do to replace the help of a professional. Regular checkups allow your dentist to examine your smile and catch any issues that occur early on, saving you from more severe and costly dentistry in the future. These appointments also give you the opportunity to ask any questions about your implant maintenance that you may have.
Chewing Non-Food Items
Your teeth (and implants) are made for smiling, speaking, and eating food – that's it! Do not use your teeth to chew on anything other than food. Habits like eating ice cubes, chewing pens or pencils, and other lifestyle choices can break and damage your implants. It's best to avoid chewing on anything other than normal food to protect your smile.
Using Your Teeth as Tools
Do you ever get anxious and use your teeth to open a package or bottle? This is one of the quickest ways you can damage your implants (and your natural teeth). Always use the proper tools necessary instead of putting your healthy smile at risk.
Smoking & Tobacco Use
Smoking is one of the worst habits if you have dental implants because tobacco slows down healing and promotes infection. This causes higher risk of dental implant failure, especially if you don't give yourself a break immediately after your dental implant surgery.
Dental implants give you a second chance at a beautiful, healthy set of teeth. However, it's up to you to maintain them! Keep these bad habits in mind so you can protect your grin and stay smiling!
Meet the Dentist
Dr. Scott Olson proudly offers dental implant placement and restoration at his convenient Springfield office. He loves helping patients enjoy full, healthy smiles. To schedule an appointment, he can be reached through his website or by phone at (417) 823-4900.