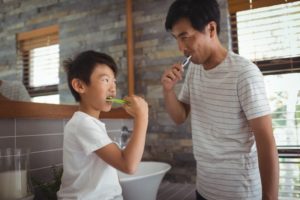 With COVID-19 still a risk, you're probably doing everything you can to stay healthy and safe, including washing your hands, wearing a mask, social distancing, and staying home. However, there is another step you can take to safeguard yourself from the coronavirus and it has to do with your oral health. You can actually boost your immune system and protect yourself from the virus by keeping your mouth clean and healthy. Read on to learn more about the relationship between your oral health and your immune system to stay healthy.
The Importance of Oral Health, Especially Now
Think of your mouth as a gateway to the rest of your body. This is an easy entrance for bacteria and germs to get into your lungs and bloodstream. That's why maintaining a healthy smile can lower your risk of infection. However, with the Coronavirus as a new reality, it's more important than ever to keep your mouth clean to prevent the possibility of getting infected by the Coronavirus.
Gum Disease and Your Immune System
One of the most common oral health problems is gum disease, which affects around 50% of the current US population. Gum disease is an infection and inflammation of the gums that can lead to serious health effects like permanent tissue damage and tooth loss if left untreated. Thankfully, the earlier forms of gum disease can be reversed with a good oral health routine and regular dental visits. But, if your gum disease persists, the bacteria that infects and inflames your gums can get into your bloodstream. This sets off an alert in your immune system to fight these germs. When your immune system is busy fighting off gum disease, it's actually weaker in protecting you from potential viral infection.
How to Keep Your Immune System Strong
You can kill 2 birds with 1 stone by practicing a good oral healthcare routine. Brush your teeth twice a day for two minutes each and floss once to remove plaque and bacteria from your smile. You should also visit your dentist for regular checkups and cleanings. This will keep your mouth healthy and allow your immune system to protect your body. Additionally, you can boost your immune system by using these easy yet helpful tips:
Daily exercise
Stress relieving activities
Maintaining a healthy weight
Getting regular sleep
Washing hands regularly
Cooking meats thoroughly
Eating fruits and vegetables
Avoiding smoking or tobacco use
Avoiding heavy consumption of alcohol
Times sure are uncertain, but your immune system doesn't have to be. Remember this information to protect yourself from COVID-19 with a healthy smile!
Meet the Dentist
Dr. Scott Olson is an experienced dentist with a true passion for quality care. He understands the relationship between your oral and overall health, which is why he has provided this useful information. If you have any questions, or if you want to schedule an appointment, he can be reached through his website or by phone at (417) 823-4900.