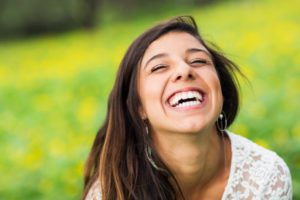 If your smile is affected by various chips, cracks, or discoloration, you may have gotten used to avoiding the act of grinning due to self-consciousness. However, smiling not only lets others know how you're feeling, but it can provide you with many health advantages, including boosted confidence. It's difficult to smile when you have various imperfections, but these can all go away with cosmetic dentistry! Read on to learn the 5 top benefits of smiling after receiving a life changing cosmetic treatment.
#1. Project Your Success
It goes without saying that someone smiling is automatically more approachable. However, studies found that showing off your beautiful smile will help others perceive you as more successful, friendly, and trustworthy. This can open doors in your life—both professionally and socially.
#2. Make Yourself Happy
Even when your smile doesn't come naturally, try to do it anyway! It shouldn't take the perfect joke to help you crack your grin. In fact, research shows that flashing your pearly whites on purpose creates the same activity in the brain as when you naturally smile.
#3. Relieve Your Stress
Who knew that smiling could be a stress reliever? With a new and improved set of teeth, feel free to reward yourself with a grin after a particularly stressful activity. Studies show that smiling reduces the heart rate, which can help you calm down after an intense situation at work or with friends and family.
#4. Turn Back Time
In a study conducted by Berlin's Max Planck Institute, participants were shown two sets of photos: one with people smiling and the other with neutral expressions. Overall, it was found that participants thought the people smiling were younger than those with straight faces. That's why there's no need to worry about smile lines or wrinkles in your face! Smile away with your beautiful and youthful set of teeth.
#5. Improve Your Health
Did you know that smiling and laughter actually increases your number of white blood cells? These are imperative when it comes to fighting off disease and boosting your immune system. With this new information, that "look good, feel good" phrase takes on a whole new meaning!
Are you ready to enjoy these benefits of smiling as well as so much more? Getting a smile you can feel proud to show off is as easy as picking up the phone. Contact your dentist to start looking and feeling better.
Meet the Dentist
Dr. Scott Olson enjoys blending art and science to provide his patients with amazingly beautiful smiles. He offers a variety of cosmetic services, including teeth whitening, porcelain veneers, and dental bonding. If you have any questions, Dr. Olson can be reached through his website or by phone at (417) 823-4900.