Single Tooth Implant – Springfield, MO
Replace a Missing Tooth from Root to Crown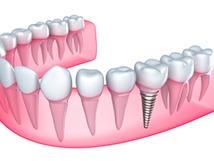 If you're missing one tooth, then your main concern is probably how that gap in your smile looks to other people. However, tooth loss doesn't just impact your appearance. One lost tooth can negatively affect your overall oral health with problems like decreased jawbone density, gum tissue loss, shifting teeth, and additional tooth loss. To avoid these and other problems, you should replace a missing tooth as soon as possible. Dr. Olson will be glad to speak to you about how a dental implant in Springfield can replace your missing tooth, renew your smile and support good oral health.
Ways to Replace a Single Tooth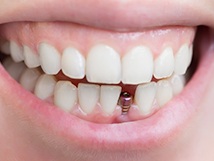 There are two options for replacing a single tooth: a fixed bridge or a dental implant.
Fixed Bridge. For some patients, a fixed bridge is chosen instead of a dental implant. Also called a crown and bridge, this prosthetic device fills the gap in your smile with a false tooth that is attached to two crowns at both ends. These crowns are mounted on top of healthy teeth next to the gap in your smile. A bridge restores dental function and prevents adjacent teeth from drifting into the vacant space.
Single Tooth Implant. A single tooth dental implant is designed to stand in for your entire missing tooth from root to crown. The implant itself is a very small post made of titanium, a metal that integrates well with human tissue. The implant is surgically positioned in your jawbone to replace the root of your missing tooth. Once integrated with the bone, the implant holds the crown restoration in place and stimulates the jaw to build healthy new bone tissue so your features remain full and youthful. To implant the post, an incision is made in your gums to expose the bone. Then, a small section of bone is removed and the implant is set in place. Although gum tissue heals in just a few weeks, the post and surrounding bone tissue will take several months to bond. Once this happens, the dental crown can be attached to the post and the replacement tooth will look and feel just like one of your natural teeth.
The Benefits of an Implant-Retained Single Tooth Replacement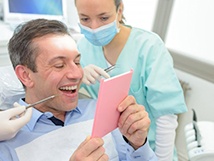 While a fixed bridge does restore the appearance of your smile, a dental implant offers many other benefits. Implants stand independently of your other teeth. Therefore, adjacent teeth are not affected as they are with a crown and bridge. Implants keep your jaw strong and healthy. Every time you bite down, the post stimulates healthy new bone tissue growth. Dental implants look and act just like your natural teeth, replacing both the root and crown. With proper brushing and flossing and regularly scheduled dental checkups, implants can last for decades, but a bridge will need occasional maintenance and eventual replacement.