How Do Dental Implants Work? – Springfield, MO
This Tooth Replacement Works Naturally and Comfortably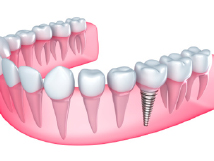 You have several options when it comes to replacing a missing tooth, and the decision is significant. The best choice perhaps is a dental implant, because this prosthetic looks and performs just like one of your own teeth. Therefore, you won't need to eliminate any foods from your diet and your oral healthcare routine will stay the same. You will, however, gain confidence and greater quality of life. Regardless of whether you need a single implant or a full implant-retained denture, there are several steps involved in the process:
First, you will need to schedule a consultation with Dr. Olson so he can conduct an examination to see whether or not you are a candidate for implants. Most people are, but some require a bone or tissue graft procedure in order to provide adequate support to the implant.
After the initial prep is completed, dental implants are surgically embedded within your jawbone.
After surgery, healing begins. During this time, the process of osseointegration occurs. This is when the implants fuse with surrounding bone tissue to create a strong foundation. How long this process takes will depend on the complexity of your case; anywhere from a few weeks to several months is common. While you heal, a temporary restoration is attached to protect your healing gum tissue and support normal function of the tooth. If you are receiving All-On-4 implants, then a personalized denture is attached to the implants on the same day as surgery. Once you've healed, a permanent denture replaces the temporary.
In the case of a two-stage dental implant, another procedure is necessary to place the abutment on top of the implant. This small attachment connects the dental implant to your new tooth restoration.
When the entire process is completed, your new and customized dental crown, implant-retained bridge or implant-supported denture is fastened to the abutments. One look and you'll know that your smile and your confidence are back!